IMPARA Partnerships and Collaborations
Our mission is to promote the study of aging, in partnership with other institutions, agencies, and health and spiritual care providers in our region.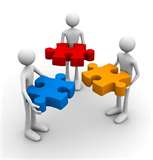 Collaboration with IMPARA offers many benefits
Increase the body of knowledge about needs and solutions specific to our community in the area of aging
Promote the flow of monies toward this area for research, training, and delivery of services
Build the area's professional infrastructure by recruiting leading professionals to move and practice here, and training and retaining the next generation of care providers
Provide community access to cutting-edge technologies and practices being developed elsewhere
Achieve a "place at the table" in national policy discussions
Our current partners and collaborators
We are excited to be working with more than a dozen community partners and collaborators. IMPARA is interested in and actively pursuing new partnerships and collaborative projects within our community. If you are interested in working with us, please contact Judith Huober at 315-446-9111.
Central New York Community Foundation
Helen Clancy, Administrator, Menorah Park
Crouse Hospital and School of Nursing
InterfaithWorks
Jewish Community Foundation of Central New York
Le Moyne College
– School of Nursing
– Physician's Assistant Program
– Continuing Education
Onondaga County Office of Aging & Youth
Onondaga County Department of Health
Onondaga County Department of Social Services
Rabbi Evan Shore, Chaplain, Menorah Park
St. Joseph's Hospital Health Center
– College of Nursing
– Franciscan Management Services SUNY Oswego –Gerontology Program
–MetroCenter
SUNY Upstate Medical University and University Hospital
– Geriatrics
– Psychiatry
– Physical Therapy Education
– Center for Spiritual Care (Clinical Pastoral Education)
Syracuse University
– Gerontology Center
– School of Social Work
The Jewish Community Center of Syracuse

IMPARA offers many benefits to the community of researchers, teachers, and providers of care to the aging
Infrastructure services
Grant writing and management
Database administration
Data management and research analysis
Dedicated space
Subject recruitment
Research team-building
Facilitated access to students and other lab associates
Liaison with members of other disciplines
Liaison with others with complementary expertise (e.g., teaching expertise for researchers, clinical
expertise for teachers, etc)
Publication support: journal selection, writing, and meeting publication guidelines
Structured opportunity for field work and practicums for students at various levels; on-site supervision in research process, methods, and translation to clinical application
Direct research with primary investigator (PI) in-house
Continuous quality improvement (CQI)